Mumbai - nashik-travel-holiday-packages - Shridi
TOUR CODE - MH007
6 Nights / 7 Days
2 Nts Mumbai – 1 Nt. nashik-travel-holiday-packages – 1Nt. shirdi-holiday-travel-packages – 2 Nts. Mumbai
Mumbai – Mumbai is the commercial and entertainment capital of India. It is also one of the world's top ten centres of commerce in terms of global financial flow, generating 5% of India's GDP and accounting for 25% of industrial output, 70% of maritime trade in India (Mumbai Port Trust & JNPT), and 70% of capital transactions to India's economy. The city houses important financial institutions such as the Reserve Bank of India, the Bombay Stock Exchange, the National Stock Exchange of India, the SEBI and the corporate headquarters of numerous Indian Companies and multinational corporations. The city also houses India's Hindi (Bollywood) and Marathi film and television industry. Mumbai's business opportunities, as well as its potential to offer a higher standard of living attract migrants from all over India, making the city a melting pot of many communities and cultures
The British built a magnificent city within the walls of Fort St. George, which lies at the southern extremity of the city. Some fine examples of the Gothic revival, Neo-classical style and Indo-Saracenic style are seen within this area. To get the best [South Mumbai] experience, stroll around the wide streets of the area right from Churchgate to Colaba. These areas are all beautifully planned and have wide and clean pavements unlike the rest of the city. Famous monuments to be seen in this area are the Gateway of India, the Chhatrapati Shivaji Terminus (Victoria Terminus) building, the Municipal Corporation and Police Headquarters and the Chhatrapati Shivaji Vastu Sanghralaya (formerly, the Prince Of Wales museum). The famous Taj Mahal hotel is located just opposite the Gateway of India. The Mumbai University buildings and the High Court are also excellent examples of colonial architecture in the city.
There are a lot of other modern structures to look at in this area. The area known as Marine Drive (right from Chowpatty beach to NCPA) is home to a large number of buildings built in the Art Deco style. Mumbai is second only to Miami in the number of Art Deco buildings. Some famous buildings in this style are the Eros and Regal cinemas
Museums and galleries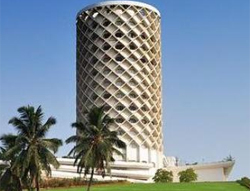 Nehru Centre Some of the most famous museums and art galleries in India are found here. The Kala Ghoda area in South Mumbai teems with them, particularly the Chhatrapati Shivaji Maharaj Vastu Sangrahalaya (Prince of Wales Museum), and the National Gallery of Modern Art. Once again, most of them are concentrated in South Mumbai. Also worth planning a visit is Jehangir Art Gallery, also at Kala Ghoda, displays changing exhibits by notable artists. The plaza next to the gallery also regularly displays exhibits of various artists.
Day 1 : Pickup from Airport / Railway station. Check in to hotel, after a short fresh-up drive to Gateway of India, Worli Sea-link, Haji Ali, Mahalaxmi Temple etc. Evening free at your leisure.
Day 2 : After break-fast drive to Gateway of India for visit to elephanta caves.  Return back at around 4 p.m. in the evening.  Visti Siddhivinayak Temple and overnight at Hotel.  Or one may opt to go for full day tour of Esselworld.
Day 3 : After breakfast proceed to nashik-travel-holiday-packages.  Reach nashik-travel-holiday-packages at around 2.30 to 3 pm.  Take Darshan at various temples in nashik-travel-holiday-packages.  Overnight at Hotel in nashik-travel-holiday-packages.
nashik-travel-holiday-packages –
nashik-travel-holiday-packages is a located on the banks of the Godavari River, the holy river which flows through old nashik-travel-holiday-packages. Nasik is the highest producer of grapes in India along with onions. The Nassak Diamond, derives its name from the fact that it long remained in the Trimbakeshwar Shiva Temple, near nashik-travel-holiday-packages. The Godavari River flows through nashik-travel-holiday-packages from its source, which lies to the southwest of the city, in Trimbakeshwar.
According to Ramayana, Lord Rama, the King of Ayodhya, made nashik-travel-holiday-packages his home during his 14 years in exile. At the same place Lakshmana, cut off the nose of Surpanakha and thus this place was named as "Nasik"(in Sanskrit Nasika means nose). Several other references to the Ramayana can be found in nashik-travel-holiday-packages, which includes the Sita Gumpha caves, from where Sita, Lord Rama's wife, was abducted by Ravana.
nashik-travel-holiday-packages host one of the largest religious gathering in the world known as Maha Kumbh. Kumbh mela (festival) is celebrated once in twelve years. The Ardh (half) Kumbh Mela is celebrated every six years at Haridwar and Allahabad, the Purna (complete) Kumbh takes place every twelve years at four places in Allahabad, Haridwar, Ujjain, and nashik-travel-holiday-packages. Previous kumbh mela was in year 2003. Next kumbh mela will be held from August 15 to September 13 in 2015.
nashik-travel-holiday-packages is ranked as fourth fastest growing city of India and sixteenth of the world, nashik-travel-holiday-packages is known for its pleasant climate, picturesque surroundings and greenery. It is the third largest city of Maharshtra after Mumbai and Pune Nasik is shortlisted in Delhi Mumbai Industrial Corridor(DMIC) as an investment region for the circle Igatpuri-Nasik-Sinnar.
Day 4 : After breakfast proceed to Trambakeshwar.  Take darshan and in afternoon proceed to shirdi-holiday-travel-packages.  Overnight at Hotel in shirdi-holiday-travel-packages.
shirdi-holiday-travel-packages –
shirdi-holiday-travel-packages Sai temple is a beautiful shrine that was built over the Samadhi of Shri Sai Baba

shirdi-holiday-travel-packages is located approximately 296 Kilometers from Mumbai (Bombay) City in India.

shirdi-holiday-travel-packages is famous temple of Shri Sai Baba. It was established in 1922 to carry out the services of Shri Sai Baba.

At age of 16 yrs Shri Saibaba arrived at the village of shirdi-holiday-travel-packages in Ahmednagar district of Maharashtra and remained their till his death. Saibaba found shelter in Khandoba temple, where a villager Mahalsapathi in the temple addressed him as Sai or Saint Sai baba.

Shri Saibaba of shirdi-holiday-travel-packages lived between 1838 and 1918, whose real name, birthplace and date of birth are not known. An Indian spiritual guru and a fakir, Shri Saibaba in shirdi-holiday-travel-packages was regarded with great reverence by both Hindu and Muslim followers. Lord Sai lived in a mosque and after death his body was cremated in a temple.

Sri shirdi-holiday-travel-packages Sai philosophy ingrained 'Shraddha' meaning faith and 'Saburi' meaning compassion. According to god Sai, Shraddha and Saburi were the supreme attributes to reach the state of godliness.

Sai Baba :
Long time ago, at the beginning of eighteenth century a young bearded man ( shirdi-holiday-travel-packages Sai baba) with sparkling eyes took shelter in a mosque, in shirdi-holiday-travel-packages Village (of Maharshtra State, In India) . Nobody knew from where this stranger had come who hardly spoke a word and stayed there.

Gradually the curious villagers started offering food to the man, but he never asked anything from them. Sometimes he shared his food with the animals. Soon the young fakir, as he was started to be addressed, started expressing his view points with few elderly villagers. His simple language of expresssion and his special power of solving the problems of poor needy and destitutes soon made this less known fakir, to be known as Shri Sai Baba. As the days passed, devotees started streaming into shirdi-holiday-travel-packages in ever growing numbers. The village was fast becoming a centre of pilgrimage. As gifts and presentations flowed in, the pomp and ceremony of Sai worship were evolving. Everyday Sai Baba would be a pauper having distributed all among the needy and the poor. But Sai Baba's life of a Fakir remained calm, undisturbed, unaltered and therein is the saint's Spiritual glory.

People also realised that this "Baba" was no ordinary person but a person with extraordinary godly powers. Such powers are not known or present in normal human beings. Baba preached his principle of love and faith in humanity to all his disciples. He always felt anguished over the fact that all those who came to him were more for their own personal problems and not for attaining the ultimate goal of reaching God which he felt could be attained only by true servicing of humanity.

Sai baba strongly believed in uniformity of religion and he never distinguished anyone on the basis of caste, creed or religion. He always made it a point not to return empty handed those who had come to him in their hour of need and grief. He performed miracles to alleviate the suffering of poor people. On one occasion he restored the eyes of a blind elderly and on another occasion he lighted a lantern with water when there was no oil to burn it.

As all good things have to end ultimately "Baba" also left his body on his own will on 15th Oct. 1918, leaving his millions of believers and followers crying. His body was laid in the Samadhi Mandir called "Booty", which he had asked his disciple to built before his death.

Sai Baba was Unique, in that, he lived his message through the Essence of his Being. His life and relationship with the common man was his teaching. The lmmense Energy that was manifest in the body of Sai was moving and is still moving in a mysterious way, creating and recreating itself everywhere, beyond the comprehension of time and space.Yet, he lived with the common folk as a penniless fakir, wearing a torn kafni, sleeping over a mat while resting his head on a brick, begging for his food. He radiated a mysterious smile and a deep inward look, of a peace that passeth all understanding. He was always and ever aware of what transpired within the hearts and minds of everyone, whether they be, His devotees or not. This Omnipresent and Omniscient Sri Sai Baba who left his mortal body in 1918, is the living spiritual force that is drawing people from all walks of life, from all parts of the world, into his fold, today.Sri Sai Baba lived, acted and behaved as only a "God descended on Earth" can. He came to serve mankind, to free them from the clutches of fear.
Day 5 : Early morning take darshan of Shri Sai Baba and come back to hotel. After breakfast proceed to Shani Shinganapur. Take darshan of Shri Shani dev. Return to Mumbai. Overnight Hotel in Mumbai.
Shani-Shinganapur –
Shani Shignapur is a village located in Ahmednagar District of Maharashtra. It is about 35 km from Ahmednagar.

The presiding deity of Shinganapur, Sri Shaneshwara or Lord Shanidev- the personification of the planet Saturn is worshipped with utmost reverence and devotion by multitudes of people from all over the world. The spectacle of the deity in black stone is overwhelming. A unique aspect of this place is, that no temple structure houses the Shanidev. There is only a simple platform on which stands the swayambhu idol, in black stone.

Unlike other pilgrimage centres, devotees here can perform puja or abhishek or other religious rituals themselves. One of the unique aspects of the village Shiganapur is that houses here have no door- frames or locks on them for safety. They are in fact not needed. The people here believe that it is the benediction of the god that no crime ever occurs in this village.

Shri Dattatraya Temple and the tomb of Sant Shri Udasi Baba are the nearby attractions. By road, Shani Shignapur is linked with Aurangabad (68 km) and shirdi-holiday-travel-packages (70 km). Ahmednagar Railway Station is the nearest railhead
Day 6 : After breakfast visit Alibaug and Kashid beach, Janjira fort and return to Mumbai. Overnight at Hotel.
Ali-baug, Kahid Beach –
Kashid is a beach town on the shores of the Arabian sea, in the North Konkan region of Maharashtra, India. It is located 30 km from Alibag and 135 km from Mumbai on the Alibag-Murud road.
Kashid is popular mainly because of its white sand, blue seas, green mountains, paddy fields, and rivulets. Kashid has a 3 km stretch of beach tucked in between two rocky hillocks with Casuarina groves all along the seashore. This is by far the best beach in this part of the Konkan region and, though absolutely deserted on weekdays, the town can attract its fair share of week-end holiday makers. There are a few small hotels in Kashid as the rest of the area is privately owned.
The waves here are unusually high and can be a paradise for surfing. The waves can reach a height of 5–6 feet even during the non-monsoon months. However they are dangerously high during the monsoons and surfing is not recommended during the months of June to September.
Day 7 : After breakfast time for shopping at various markets and drop at Airport / Railway station.
A/c Indica : 25,600/- ( Upto 2100 km if you cross 2100km then it will be charged 10rs per extra km )
A/c Ertiga / Swift / Etios : 29,800/- ( Upto 2100 km if you cross 2100km then it will be charged 12rs per extra km )
A/c Innova : 34,000/- ( Upto 2100 km if you cross 2100km then it will be charged 14rs per extra km )
A/c Tempo Traveller : 49,200/- ( Upto 2100 km if you cross 2100km then it will be charged 21rs per extra km )
Non A/c Tempo Traveller : 40,800/- ( Upto 2100 km if you cross 2100km then it will be charged 17rs per extra km )
Toll, Tax , Parking is including Upto 2500rs.
Good Driver With Good Condition Vehicle
Driver Will Be With Mobile Phone
Vehicle shall be used only as per your tour Itinerary.
6 % Service Tax Applicable on Total Billing Amount
Km will be Charges from Chinchwad Office to Chinchwad Office.